BullDawg Consulting Services
A niche to be filled...
The recording industry has gone through a major change over the last 10 - 15 years. Audio tape has been replaced by hard disks, control surfaces are replacing mixers (in some cases) and outboard gear from MIDI modules to effects processors are now completley software based and reside inside your computer. The modern studio now relies on computers and cutting edge technology to stay one step ahead of the competition.

While all of this technology is wonderful, it still requires maintenance, training and support to keep things running smoothly. Most hardware and software companies offer a level of support to their customers, but not always in a timely manner. Waiting 24 to 48 hours for a callback or e-mail can sometimes mean canceling a session, a loss of revenue, or possibly something far worse... loosing a client.

Most studios cannot afford to keep a knowledgable computer technician, system admin and software integration specialist on staff. However, when disaster strikes, these skills are needed urgently.

Which is where I come in...

For the last 20 or so years, I have been working with audio, midi, computers and "technology in general" on a daily basis. I have experience with most of the software and hardware available to the recording industry as well as most Mac and PC operating sysems (System 6 to OS X on the Mac and Windows 3.1 to XP on the PC).

With 11 years of experience as a Systems Administrator, I've honed my skills as a troubleshooter and diagnostician. This BullDawg won't let go until the problem is solved.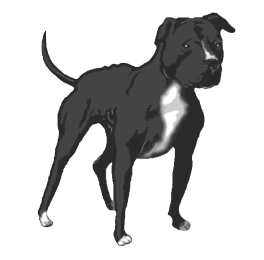 BullDawgs never quit!
BullDawg services - We offer a wide range of support services from email, phone, or on site support as well as virtual on site support at very reasonable rates. We also offer training on the latest Audio/Midi related software. From the home hobbyist to pro level studios, as well as educational institutions - we can help you get the most out of your technology and let you concentrate on the music.

Some of the many things we cover...
|- Technical Support and troubleshooting for high end computer based DAW software, plugins, softsynths, hardware, etc...

|-Training on the latest Midi/Audio Software

|- Integration of new systems including hardware and software

|- Custom tailored Mac and PC DAW configurations including audio hardware installation, OS and application optimization

|- Hardware and software upgrades

A short list of software and technologies I am familiar with:
Digital Performer 3 and 4
Nuendo
Cubase VST & SX
Logic
Pro Tools
Reason, ReBirth & ReCycle
Bitheadz Retro AS-1, Unity DS-1, Unity Session
sonicWORX Products
Most Native Instruments products
Ableton Live
Most Bias products including Peak and Deck
T.C. Electronics products including Spark
GigaStudio & GigaSampler
Sonar
Acid
Sound Forge
Wavelab
CoolEdit Pro
Samplitude Pro
FruityLoops

MAS, ReWire, DX, VST, TDM, RTAS, OMS, FreeMIDI, Core Audio/Core Midi, VST System Link, and more.


Visitors so far





Our Current list of clients:
Emmy Award winner Michael Terry of The Music Lab
Dedham Country Day School Music Department
The Brooks School Music Department
Animusic



Organizations who reference this site:
sweetwater.com
UCLA


BullDawg will custom tailor a support plan for your business. For more information and rate quotes --> Please email me