View 1 - The good stuff.
From Left to right... Akai X-7000 with home made remote control module (ALPS GlidePad, Apple Ergo keypad connected to Griffin ADB to USB adaptor - Set up for dp, Reason, etc...), Oxygen 8.

In the rack: MTP, Boss GL-100, Kawai XD-5, Micro Cue Amp, Unused Alesis 1622 mixer.

DAW 1: 17" iiyama monitor, 2 Beringher MX602 mixers, Mac G4

DAW 2: MAG 17" monitor, Dell XPS R 400 PC.

DrumKat DK-10 midi drum controller (looks like Mickey Mouse).

More on the DAWs

DAW 1 is a Mac G4 Dual 450mhz with 1.25 GB of RAM, stock video card, 30GB and 60GB ATA HD's, Audiophile 2496 PCI sound card, Adaptec SCSI card (for use of legacy devices), MOTU Fastlane USB. Mainly used to run DP 3.11 and now dp 4

DAW 2 is a Dell Pentium II 400mhz PC with 256MB ram, 4 SCSi HD's (2 X 4gb and 2 X 9GB), Matrox 2mb video card, Adaptec SCSi card, Audiophile 2496 sound/midi card (connected via s/pdif and Midi to the Mac). Mainly used for surfing the web, posting at Unicornation.com... oh, and it runs Reason, V-Stack and other audio related apps - a vritual Rack of Gear.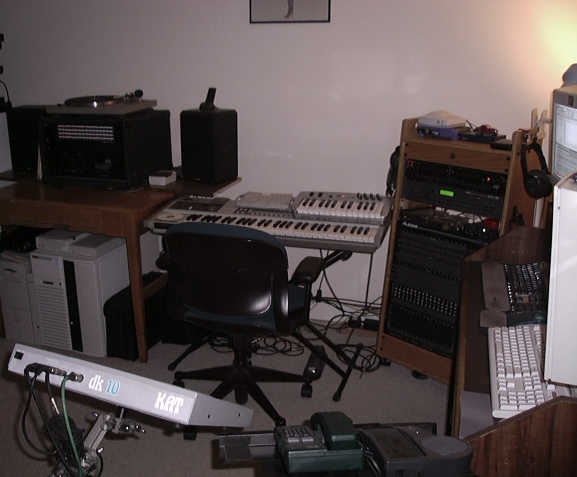 View 2 - The DJ station and misc. computer hardware.
Pioneer PL-512 Turntable (weighs as much as a Buick) with custom built pre-amp - for lifting those crazy grooves yo!

Boston Acoustics HD-45 monitors, Peavey M2600 Power amp (for the HD-45's)

Misc. soon-to-be-used computers - PowerMac 9600/200MP (for Multi Processor) - DEC Prioris Server with built in raid, up to 8 Pentium CPU's, etc... I'm thinking of starting my own ISP :)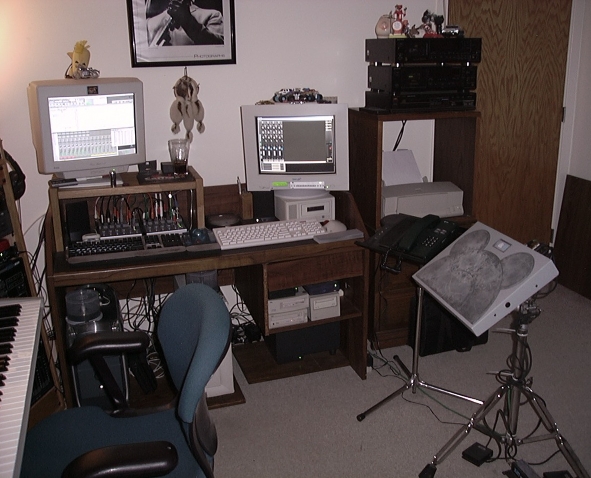 More stuff
Stuff next to the PC monitor, on the top of the rack... Sony DTC-700 DAT, Sony TC-K670 3 head cassette deck, extremely old and cheap (but still working) Fisher CD player, Epson Stylus 600 printer.

Stuff below the PC keyboard, connected to the Mac... Iomega Jaz drive, APS Syquest 270 MB drive, Yamaha CD-RW, Iomega Zip drive, HP DDS2 DAT drive (data backups).

Pre-Production audio monitoring system (hard to see, hidden amongst the other crap) is an Altec Lansing 3pc powered speaker system. For critical moitoring, I use the HD-45's, but the Altec's aren't too bad if you turn the subwoofer almost off :)

Oh, and the most critical piece of gear... the AT&T model 700 phone with HelloDirect Conference Pro speaker phone, used for my consulting business.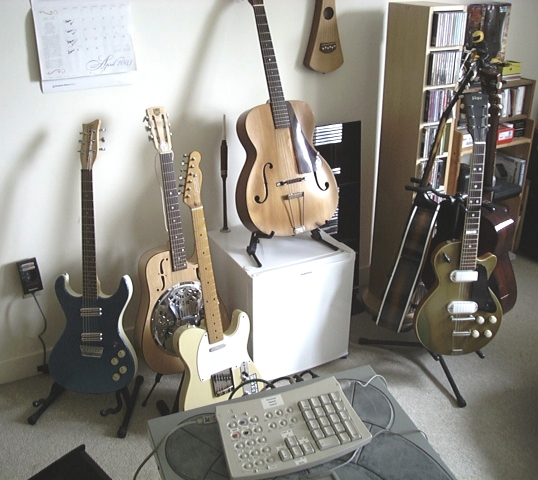 The guitar collection
My hodge podge guitar collection - From L to R...

Danelectro Hodad, Dobro single cutaway/spider resonator, Fender 50's Telecaster.

On top of the fridge - My baby - a 1933 Martin C3 F-Hole Archtop Acoustic - One of only 76 made in 1933. It's had 3 fretboards in it's lifetime. Plays like "buttah" - Behind the Martin is a Chanter - It's how you learn to play the Bagpipes.

Hanging on the wall to the left of the '33' Martin is a Martin Backpacker guitar. Goes everywhere with me.

On the triple stand in plain view, 1950's Vega Westerner - 2 big soapbar single coils - Sweet sounding guitar. To it's left, 1950'something TrueTone Archtop Acoustic. To it's right, Yamaha FG-400a Acoustic (cheapie) - Been with me for about 15 or so years.

Guitars in the closet - Jerry Jones Danelectro U2, DeArmond single humbucker "Rock" guitar, Late 40's, early 50's Vega D-26 Archtop Electric, Sigma/Martin Electric & Acoustic Mandolin.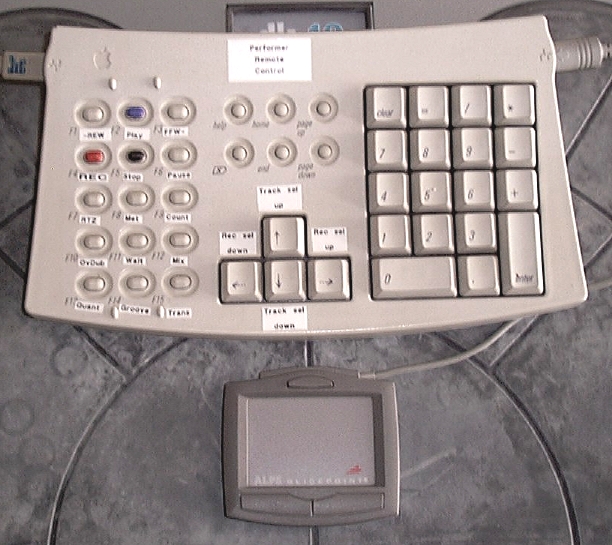 Homemade DP/Reason Remote Control.
What you are seeing here is an old Apple Adjustable Keypad (not the full keyboard). It has a number pad, a full set of Function keys, 4 arrow keys, and the little cluster of keys above the arrows (help, home, page up/down, etc...).


That plugs into a Griffin ADB to USB adaptor for compatibility with newer Mac's. Currently, I have a 20' ADB extension cable on it and it seems to not mind the distance at all (might be able to go even further). The unit is about 10" X 6" - Just pick it up and move it to where you need it.


Below it is a ALPS Glidepad, for moving the mouse around. It's a nice, inexpensive little remote and thanks to DP's Commands feature, I can automate just about anything - Just set up custom key bindings to work with the Function keys and such and you're off.


If you look around, you can find the keypad for around 10.00 US. Add the ADB to USB adaptor for about 35.00 US, and a long ADB cable and you've got a slick remote for around 60.00 - 70.00 US. I've seen USB numeric keypads (no function keys) selling for 99.00.
Visitors so far





Stay tuned - More exciting photo's to come.